People living with untreated hearing loss can experience negative ramifications in their personal lives due to poor communication and stress.
A study on the impact of hearing loss on spousal relationships found that "Spouse hearing loss increased the likelihood of subsequent poorer physical, psychological, and social well-being in partners." Hearing aids are a great way to address the negative ramifications of hearing loss. Their advanced technology can help you better hear and understand your partner by minimizing background noise and amplifying speech sounds.
Let's look at how these devices can contribute to stronger relationships and better well-being.
Hearing Aids Can Improve Communication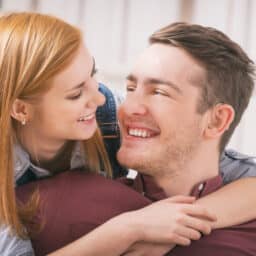 With hearing loss, it can be challenging to understand your partner while they speak. You may miss words or phrases or ask them to repeat themselves frequently. Struggling to hear your partner can result in a breakdown of communication leading to potential arguments or misunderstandings.
Wearing hearing aids can help improve your ability to understand your partner. By amplifying speech sounds and reducing background noise, hearing aids help create clearer communication, even when washing dishes, watching TV or speaking to each other from another room.
With hearing aids, your partner can feel more secure in the knowledge that you are taking steps to understand them better, and you can feel confident that you aren't missing important information.
Hearing Aids Can Increase Confidence in Social Situations
With hearing loss, going out with friends, going to a concert or having dinner with your partner at Crown & Anchor can feel overwhelming and stressful. Those with hearing loss tend to isolate themselves from social activities to prevent stress. A study on the effects of hearing loss on social isolation found that individuals who isolate themselves were at a greater risk for poor psychosocial and cognitive health. Hearing aids can help remove your worries and bolster your confidence in social outings. The devices will allow you to enjoy your partner's company at social outings and help bring you closer together.
To start your hearing treatment journey, contact Decibel Hearing Services today.