With holidays right around the corner, your days will probably be filled with family gatherings, big meals and hectic shopping days. Knowing how to accommodate your hearing loss during this holiday season will help ensure you have a fun and stress-free experience.
Let's take a look at a couple of helpful tips for enjoying your holiday season with hearing loss.
Wear Hearing Aids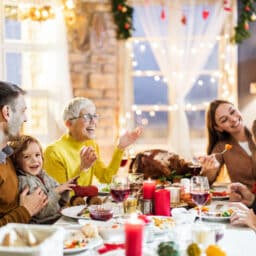 Approximately 28.8 million U.S. adults could benefit from the use of hearing aids. The small but remarkable devices have a microphone that collects sound, an amplifier that raises its volume and a speaker that transmits it directly into the ear canal.
Hearing aids can do a lot of the heavy lifting for you when it comes to hearing the total for your holiday baked goods at History Bakery Café, understanding conversations in big groups and more.
Find a Good Seat
When even the smallest holiday dinners can be a little hectic, choosing the right seat is important. People with hearing loss often have a hard time understanding conversations with multiple people, especially with added background noise
Choosing a centrally located seat away from stereos or loud parts of the house will help you engage in conversation more fully without exerting unnecessary energy to understand your loved ones.
Communicate Your Needs
It can sometimes feel uncomfortable to ask for hearing loss accommodations. Always try to remember that your happiness, comfort and enjoyment are important.
Asking your host to turn down music or set aside a place for you to sit are two simple ways to ensure you have a fun and enjoyable holiday dinner with your family and friends.
Repetition and Rephrasing
Missing words or phrases often comes down to certain sounds. You misunderstand some words or phrases more than others because of their emphasis on specific vowels or consonants.
If someone has repeated a sentence to you and you still don't understand, ask them to rephrase it. Not only will you be more likely to hear them, but they'll appreciate that you took the time to understand what they had to say.
To learn more about managing or treating your hearing loss, contact Decibel Hearing Services today to make an appointment with one of our specialists.