Beginning hearing aid treatment comes with a lot of new information. Learning about the many hearing aid technologies available to you can help you take control of your treatment journey.
Let's take a look at a couple of common hearing aid technologies that may be available to you so that you can begin to define your priorities when starting your treatment.
Technology Across the Board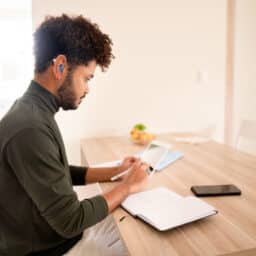 Data from the MarkeTrak 2022 survey revealed that hearing aid owners reported greater quality-of-life benefits from their devices. Regardless of the brand or extra technology, all hearing aids have basic features that contribute to these greater quality-of-life benefits. All hearing aids have a microphone that collects sound, a processor that raises its volume and a speaker that deposits it directly into the ear canal.
By collecting and amplifying speech sounds, hearing aids can improve understanding and communication with friends and family.
Bluetooth® Technology
With Bluetooth compatibility, you can pair your hearing aids to your phone, computer, tablet and other smart devices. If you enjoy working out of coffee shops or streaming music directly into your devices on a run through Conejo Community Park, you may want this feature.
Smartphone Apps
Many of today's hearing aids come with smartphone apps. Smartphone apps are an excellent option for people who want more control over their devices. Depending on the app, you may have options to adjust your hearing aid settings, monitor battery life, connect with your provider and more.
Tinnitus Masking
Tinnitus is a roaring, buzzing or clicking noise present in the ears that cannot be heard from the outside. Affecting approximately 15% to 20% of people, tinnitus and hearing loss often co-occur. Hearing aids with masking features work either by playing white noise or raising the volume of external sounds to mask the internal noise of tinnitus. Masking features are a great option for those who experience tinnitus symptoms severe enough to impact their life adversely.
Directional Microphones
Directional microphones amplify sounds from the front of the wearer, such as speech sounds from a conversation, and suppress irrelevant background noise. This feature is beneficial if you struggle with understanding speech or find yourself in many noisy environments.
Noise Suppression
Noise suppression technology is broken down into three categories:
Digital noise reduction. Digital noise reduction works by analyzing the environment to identify and suppress unwanted sounds.
Impulse noise reduction. Impulse noise reduction suppresses common but unnecessary noises such as typing or dish clattering to improve overall understanding.
Wind noise reduction. Wind noise reduction is especially helpful for those who enjoy a lot of time outdoors. Hearing aids with wind noise reduction work to detect and suppress the volume or impact of wind noise.
These and more technologies may be available when you begin your hearing aid treatment. Contact Decibel Hearing Services today to learn more about how hearing aids can benefit you.