Dual sensory impairment is the name for co-occurring hearing and vision loss. While both are common due to the natural aging process, they can also be the result of Usher's syndrome or other congenital factors, as well as head trauma.
What Are the Risks of Dual Sensory Impairment?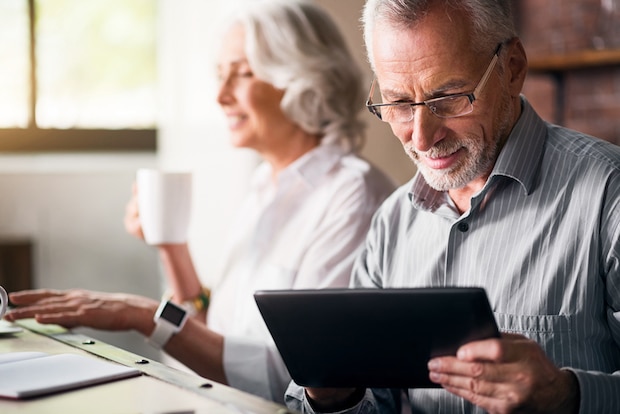 While certain levels of both hearing and vision loss are normal in old age, the effects can still be debilitating. Researchers have linked dual sensory impairment to withdrawal from social interactions, poorer quality of life and depression in older adults.
"Dual sensory loss is poorly understood, under-recognized and under-diagnosed," explained researchers from the study on dual sensory impairment and depression. "This is particularly the case in its mild form since it may be undetected by the individual, or onset may initially be in one domain at a time (vision or hearing deterioration)."
The good news is that studies show people who treat their dual sensory impairment have a higher quality of life and lower risk of death than those who don't.
How Is Dual Sensory Impairment Rehabilitated?
The first step in rehabilitation for both hearing and vision loss is to diagnose the cause of the issues. A medical assessment from and ENT is often the first step in this process; then a patient will be referred to an audiologist and an ophthalmologist for treatment.
"When it comes to treatment, ophthalmologists and otolaryngologists are the experts," explained Dr. Ying-Zi Xiong of the Gigi & Carl Allen Envision Research Institute of in Wichita, KS. "Although treatment might not necessarily cure the vision and hearing conditions, they can often slow down deterioration, stabilize the condition and relieve discomforts. Maintaining the use of residual vision and hearing is a great exercise for the brain and with time we become more and more efficient in using the visual and auditory information."
Can Dual Sensory Impairment Be Prevented?
Nobody can control their family history, so if dual sensory impairment runs in your family, there may not be a lot that can be done. However, there are certain lifestyle choices that can factor into your vision and hearing health. Eating a healthy diet, engaging in regular exercise and not smoking can help preserve your eye health, and the best way to prevent hearing loss is to limit your exposure to loud noises and to wear hearing protection when necessary.
For more information about dual sensory impairment or to schedule an appointment, call Decibel Hearing today!
Find out more about Hearing Loss
Age + Hearing Loss = Cognitive Decline